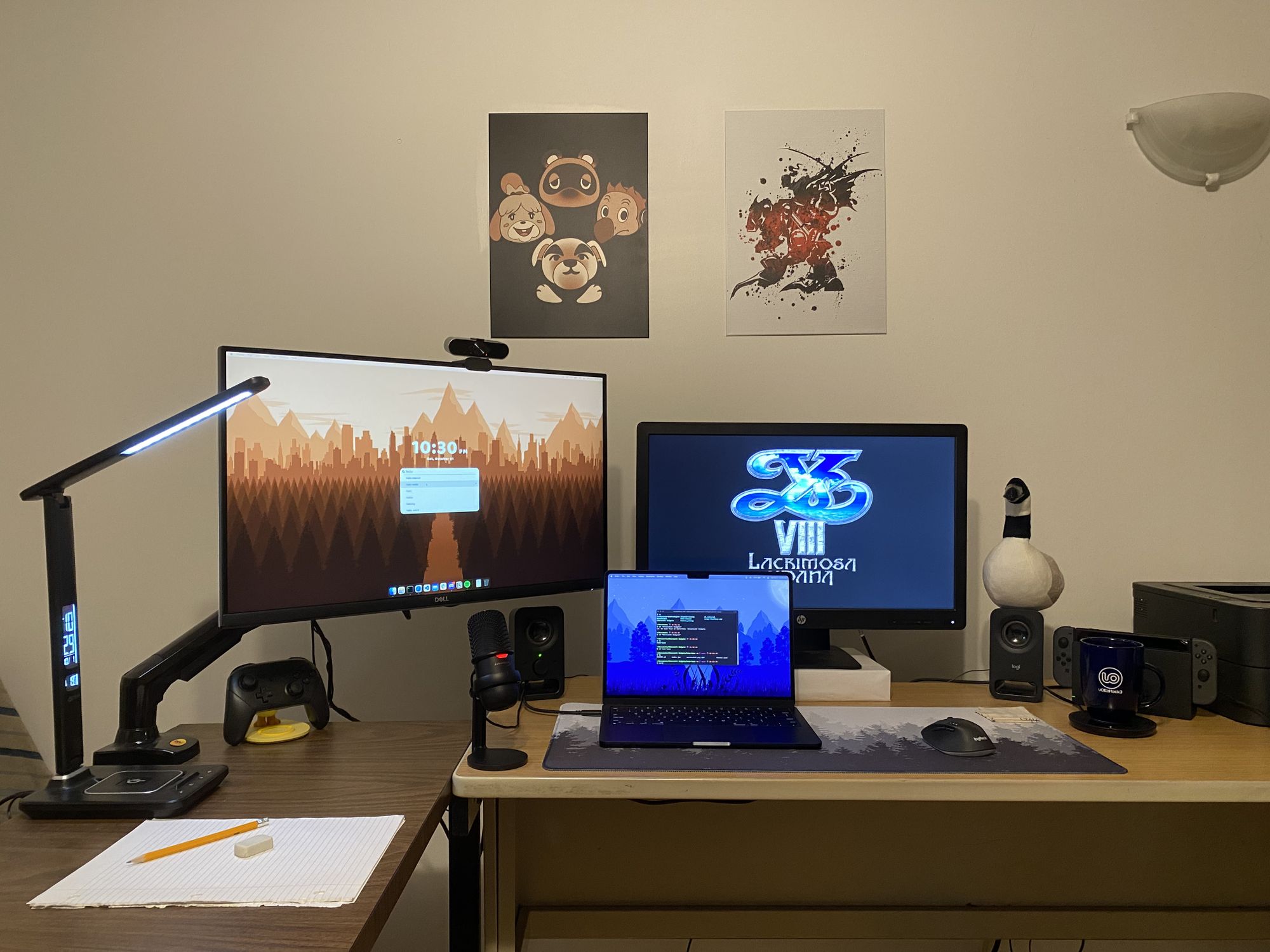 What do you think? I've got to say, I'm pretty proud of how it turned out. Let me take you on a tour — a journey through the design process of my office area and the little details you'd probably never notice on your own.
---
The Basics
The Computers
I use two computers, both of which are in this area, but only one is visible in the photo. What you see is my work laptop, a Midnight Blue 2022 MacBook Air with:
the M2 chip (8-core CPU + 10-core GPU)
16 GB of RAM
a 512 GB SSD
It's a great machine; it's quiet, it stays cool, it's got great battery life, and it's very fast and snappy — at least for the tasks I run on this computer. The catch? It's not mine, as it belongs to my employer. I'm fortunate enough to have the privilege to use it until the end of the year, when my contract with my employer ends, though. In fact, I'm thinking of getting this same model laptop after I return this one to my employer.
My other computer is a Dell XPS Desktop PC with:
an i7-11700 CPU
an RTX 3060ti GPU
32 GB of RAM
a 512 GB SSD and a 2 TB HHD
It's more powerful than the laptop, but not as convenient, of course. Both computers are connected to the left monitor, a 27-inch, 4K, 60 Hz monitor. You can see Home Base on the screen, which I talk about more in my post JSON with Variables-ish. What's connected to the other monitor? Let's get to that now.
The Nintendo Switch
On the right side of the picture, behind the cup and cup-warmer, we have my Nintendo Switch. On the left side of the picture, to the right of the monitor arm, we have my Nintendo Switch Pro Controller, which I use with both the Switch and the desktop PC. What about the game I'm playing? I recommend that you play it for yourself .
Other Accessories
As you can see, there are many accessories on my desk, including the mouse, the speakers, the webcam, and the microphone, all of which I don't have much to talk about. The lamp is pretty interesting though — it's a lamp, a clock, a thermometer, and a wireless charger — all in one. I also have an office chair and a budget mechanical keyboard not in frame. Those are two items that I want to upgrade some time.
The Cool Parts
Home Base
As I mentioned before, Home Base is the widget on my left screen. It displays the time, the date, and a search bar for both search engines and URLs. It adds some personality to my Mac desktop, and it's useful to boot. You can get it here for macOS — feel free to give it a try.
The Posters
Yep, they're the ones I talked about in my post Ideal Frame Height? idk.
The first poster has Animal Crossing characters mimicking the music video for Queen's Bohemian Rhapsody. I haven't properly played Animal Crossing yet, but Bohemian Rhapsody is one of my favourite songs (not original of me, I know).
The second poster is the Final Fantasy VI logo with a "paint splatter" style. To me, Final Fantasy VI is the perfect example of video games as an art form — it's ambitious in scope, it's top-notch musically, and it's not afraid to explore uncomfortable subjects like suicide. I don't want to spoil the game any further, even though it's over 25 years old — it's a game you should definitely experience yourself.
The Goose Plushie
Isn't it sooo cute ? It's great for goose plushie debugging too.
The L-Shaped "Desk"
You know what's cool about the L-shaped "desk"? Turn 90 degrees, and you've switched from working with a computer to working with pen and paper. I find it really useful for tackling difficult programming problems; I can quickly switch between writing code and sketching ideas on paper. Maybe one day I'll get a real L-shaped desk.
Matching Wallpapers and Desk Pad
Abstract landscapes, I love 'em. I've been using this current set of wallpapers for a while now, and I happened to come across my current mousepad while shopping on Amazon. Of course, I had to get it.
---
There you have it, my office setup. I hope you enjoyed the tour.